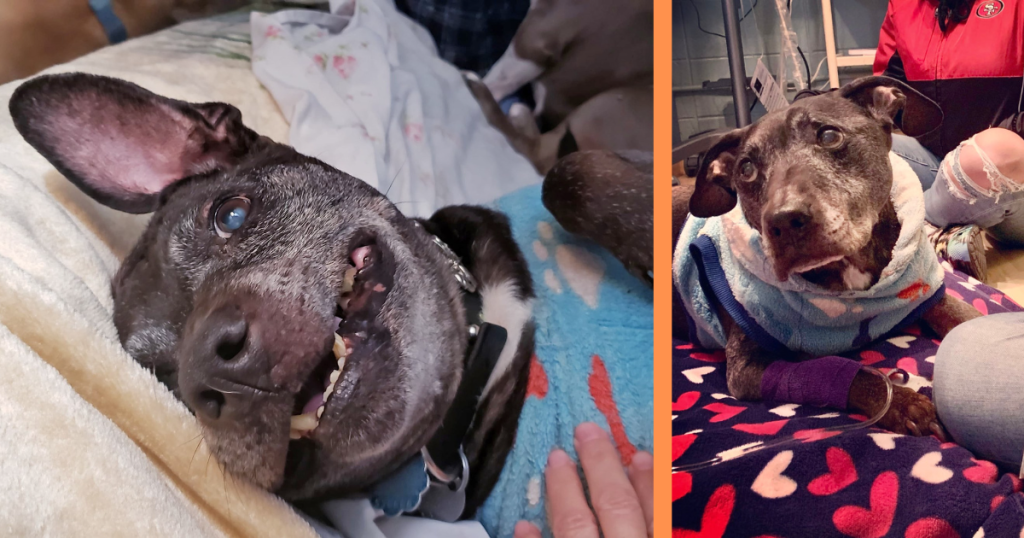 The whole world was left in awe when, in 2007, a police investigation revealed that the quarterback of the Atlanta Falcons, Michael Vick, was involved in the Dog Fighting Chain. Police obtained a warrant to search his home and yard in Virginia, where 51 pit bulls were found, imprisoned, and subjected to cruelty, all for the purpose of dog fighting. It was discovered later that these dogs were exposed to abuse in the cruelest way possible, such as hanging, drowning, electrocution, beating, etc.
The luck in the accident is that animal protection organizations managed to save 48 pit bulls, which after this discovery were examined, properly cared for, and finally fully recovered. Unfortunately, the trauma they survived will never be erased from their memory, but they were given a second chance, they were all found a home with families who gave them the much-needed love. One of those 48 pit bulls is the main hero of our story today, it is a dog named Frodo who emerged as the main symbol of resistance to the injustice that befell these innocent dogs.
Frodo was found as a puppy, but even then he was going through great horrors, it was discovered that he spent 6 months alone, close to others, without contact with other dogs, listening only to the sounds of violence and suffering during the fights of other dogs. This had such great consequences on him that it took him time to recover from that trauma, which was especially evident in his behavior when he was timid and terrified all the time. But regardless of all that, Frodo was ready to fight for a better life and recovery.
Fortunately, Frodo found foster parents after his rescue, and their love and attention contributed to his quick recovery, it is said that his family held him on the throne of the king, and they would do whatever he wanted. He changed so much and became cheerful, sweet, and playful that from a scared dog, he became an ambassador for other pit bulls and broke myths and prejudices about how they are evil and dangerous dogs.
This is another in a series of stories that serve as inspiration and proof that every dog deserves a second chance, and if he is given the necessary help and care in combination with attention and love, he will give it back multiple times more.
Apart from Frodo, the other dogs from the rescued group went through a similar path, all of them got a chance for a better life thanks to animal protection groups and adoptive families. All rescued dogs proved to us that with a dose of patience, attention, and love, even the most traumatized dogs can recover and continue to live as if nothing had happened.
Frodo, unfortunately, left us, leaving behind the last surviving dog from Vick's ring. Regardless of the fact that he is no longer there, he will forever be remembered as a symbol of struggle and courage. Frodo's life story has destigmatized people's prejudices about pit bulls, and his greatest legacy is the inspiration for all of us to continue to fight publicly and privately for the rights of dogs and other animals.
PLEASE GIVE ONE LIKE ON FACEBOOK FOR THIS AMAZING STORY AND SHARE THE ARTICLE WITH YOUR FRIENDS!