Jeniffer Aniston might be the best celebrity dog mom. Do you agree?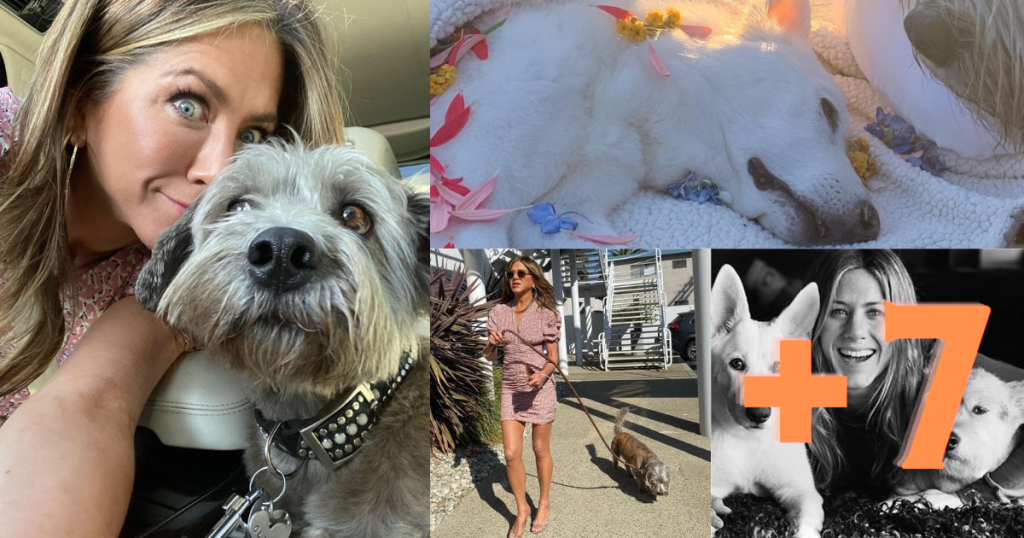 A dog is often referred to as a man's best friend. If you are a canine lover and enjoy Hollywood, you have probably come across some celebrities that love this animal. One of them that stands out is Jeniffer Aniston. The beautiful actress does not hide her love for dogs and even has a couple of them. Find out more!
Meet Jennifer Aniston's dogs
Though Jeniffer Aniston does not have any babies, she adores her furry friends and is not afraid to share them with the world. You cannot scroll through this actress's social media pages and fail to come across images of her fur babies. Jennifer is a proud parent of two adorable dogs that she named Sophie and Clyde. Sophie is a white pit bull, while Clyde is a Schnauzer mix. She has a third pooch called Lord Chesterfield, who unfortunately passed away.
Find out why Jennifer Aniston is one of the best celebrity dog moms
According to Jeniffer Aniston, being a dog mom is one of the most amazing things. Her fur babies bring her so much joy even after a long day. Many people consider her among the best celebrity dog moms due to her love for pets. She shows much devotion to her dogs and spends a lot of time with them.
Despite her busy schedule, Jeniffer Aniston still finds time to walk her dogs on the beach and engage them in exercises. When she is working out at home, her dogs are always nearby to keep her company. She once shared a video of herself on Instagram trying to work out at home, but her pooches could not leave her side. In the video, Chesterfield and Clyde try to get the star's attention as they played with a soft toy.
Jeniffer Aniston is also among the best celebrity dog moms due to her noble dog rescue activities. Jeniffer Aniston rescued a dog and sheltered him. She then introduced the dog through her social media platforms and called the dog the newest member of her family. Lucky dog, right?
Jeniffer Aniston named the dog Lord Chesterfield, and she admitted that the dog stole her heart the moment she saw him.
Jeniffer Aniston has such a great affection for the dogs that she sometimes finds it hard to leave them behind when heading to work. She even took one of her dogs, Clyde, to work with her during the sets of the Morning Show.
This star even took a photo of herself and the dog and posted it on Instagram with the caption "a Girl's best friend" If this isn't love, I don't know what is. On Instagram, she once shared a dog portrait of the three dogs playing in her mansion backyard in Los Angeles. Jennifer Aniston even revealed that she has had dogs as pets for almost half of her adult life.
Paying tribute to Chesterfield
Bidding farewell to a best friend is one of the most heartbreaking experiences that anyone can go through. Jeniffer Aniston is not new to this since she had to say goodbye to one of her dogs in July 2019. She shared ownership of the pet with her ex-husband Justin Theroux and got her as a pup in 2005.
On National Puppy Day, Jeniffer Aniston paid tribute to the dog and shared a couple of adorable pictures of him on Instagram. She posted pictures and videos of the dog from the time he was a puppy to when he was all grown up. From her sweet message, you could tell that Jeniffer Aniston was missing her best friend. She took time to reflect on her life with the dog from the first moment she rescued him.
Though the dog passed away long after the split between Jeniffer Aniston and Justin, the two came together to pay their tributes to their beloved pooch. They even held a spiritual ceremony for the dog. What an amazing way to honor a pooch!
Justin's message also captured the hearts of many. He took to social media to announce the passing away of the dog and said that after a heroic struggle, their loyal protector and family member laid down his shield and sword. The two also shared more pictures of the dog. One that stood out for many was the one that featured Jennifer and Justin wrapping the dog in a blanket as they watched the sunset.
The launch of Jennifer's virtual pet Clydeo
Jennifer's love for dogs is also evident in the launch of a virtual pet called Clydeo. She could not conceal her excitement when she adopted an animated dog that she named Clydeo. This was Jeniffer's first time creating an animated character. According to the star, Clydeo is a virtual pet that is a cousin to her real-life dog known as Clyde.
You are probably wondering, what makes Clydeo a unique virtual pet? Clydeo can melt the heart of any dog lover since he is far from being a typical dog. He is not only a good cook but also an aspiring food blogger.
Unlike most real dogs that enjoy taking walks with their owners, Jennifer's virtual pet prefers staying indoors to prepare delicious meals for her. Jeniffer Aniston admits that developing this animated character and adding him as the newest member of her family was quite a fun experience for her. She could not wait for everyone to meet him.
Conclusion
Being a dog mam may need a lot of commitment, but it is one that Jeniffer Aniston has embraced wholeheartedly. Despite her busy work, she is devoted to taking care of her dogs. She not only takes them out for walks but also works out with them and even brings them to work once in a while. She also held a spiritual ceremony for one of her dogs that passed away a few years back. Such acts show that Jeniffer Aniston might be the best celebrity dog mom. Don't you think so too?